The ISE Board:
PCI Bus Imaging Subsystem Engine

Introduction
Picture Elements has developed the Imaging Subsystem Engine (ISE) Board. This PCI-bus board provides an unmatched set of document image processing functions for scanners and scanning subsystems capable of providing a grayscale or color data stream.
This grayscale orientation, even when the focus is simply on high-quality binary images, is what distinguishes the ISE Board from traditional scanner interface boards. ISE's use of grayscale and color compression is what distinguishes it from other grayscale interface boards; those other boards force the system to move uncompressed grayscale data to disk, slowing the highest-speed production scanners.
The ISE Board is a PCI bus board which can either function as a scanner interface or as a network-accessible resource called the Post Processing Server (PPS). The board includes special features for high-speed, high-quality document imaging. Features include:
grayscale deskew
grayscale scaling
highest quality Multi-Scale Thresholded binary images
JPEG grayscale or color compression
Group 4 binary compression
JBIG compression of binary and low bit-depth grayscale
simultaneous grayscale and binary scanning
scanning with multiple binary images available of the same document
despeckling of binary images
Technical Description of the ISE Board
Daughterboard Architecture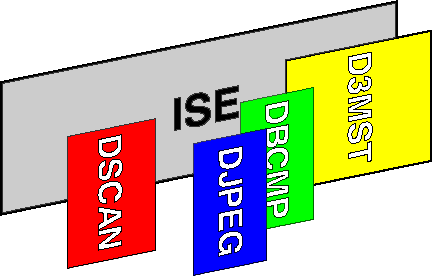 Image Processing Daughterboards
The Picture Elements ISE Board accepts a variety of daughterboards for special image processing functions. These include:
JPEG grayscale and color compression
Binary compression with Group 4 or JBIG
Thresholding, using the high-quality VST-1000 chips
Custom Image Processing Daughterboards
Manufacturers who have a special image processing function they wish to have implemented are welcome to develop a custom daughterboard to attach to the ISE Board. The open software environment and PCI-bus electrical environment of the ISE architecture make this relatively painless. Picture Elements can also develop such solutions for you on a joint or exclusive development basis.
Scanner Interface Daughterboards
The daughterboard position with access to the PCI-bus rear connector panel is typically reserved for scanner interface daughterboards. A variety of such daughterboards have been developed.
| | |
| --- | --- |
| DSPEI | Picture Elements standard dual grayscale video interface using the GS68 Specification |
| DSBT | BancTec S-Series grayscale scanner interface |
Other scanner interfaces are currently being developed to further the goal of hooking the ISE Board to the existing grayscale outputs of leading production-speed document scanners.
Custom Scanner Interface Daughterboards
Manufacturers of production document scanners who require a custom daughterboard solution for interfacing the ISE Board to their scanner's existing grayscale, color or binary interface are urged to contact Picture Elements.
We can either support your own design effort or provide a solution on joint development or exclusive development contract terms.
If you are just now developing or re-designing your grayscale interface, consider using our existing solution, the DSPEI scanner interface daughterboard. It implements the GS68 Specification, available below.
The GS68 Interface is used by the Picture Elements DSPEI scanner interface daughterboard as its method for receiving information from single- or dual-sided grayscale scanners into the ISE Board.
For those scanner or line-scan camera manufacturers who are first creating or are modifying their grayscale interface, Picture Elements has developed a grayscale interface which allows the efficient connection of simplex and duplex grayscale (in addition to bit-serial binary) data streams to the ISE Board.
This document details the interface implemented by the Picture Elements DSPEI daughterboard to the ISE Board.
Memory Mezzanine Boards
In addition to special function daughterboards, Memory Mezzanine boards are available to expand the available ISE Board memory to up to 64 Mbytes.
The Open uCR/Embedded Operating System Runs on the ISE Board
The ISE board comes with a license to and a copy of the uCR/Embedded Operating System, for the software engineer writing and debugging software to run on the ISE board. uCR also supports other i960 and Motorola 68EC000 targets, and has preliminary support for Intel 386 and SPARC CPUs. uCR can be run using Linux/SPARC and Linux/Intel as a virtual board for those programmers wishing to experiment with or port software to uCR.
Source code for uCR can be copied freely under the terms of the GNU General Public License. Use of uCR in a commercial product requires a license. Binary distribution terms are available and are reasonably priced.
The documentation and source snapshots are available for browsing and free download, and will be updated from time to time. The source is available by anonymous FTP. More information is available at the uCR Home Page.